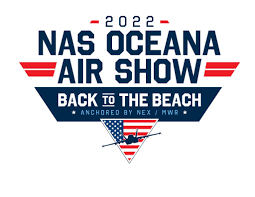 Naval Air Station Oceana 2022 Air Show
Saturday, September 17 & Sunday, September 18
Don't miss the 2022 NAS Oceana Air Show! We are thrilled to bring back this exciting showcase of military and civilian aviation performances. This year's theme, Back to the Beach, is a tribute to our deep roots here in the Hampton Roads area, and our steadfast commitment to our surrounding community, especially as we navigated the impacts of coronavirus together.  The Navy's largest open house in North America, the NAS Oceana Air Show is a way for us to give back to the community. We look forward to welcoming visitors from across the country and around the world to come onboard the Navy's East Coast Master Jet Base, see high-performance aircraft, and meet the exceptional men and women of naval aviation.