3rd Annual Soundscapes Charity Golf Classic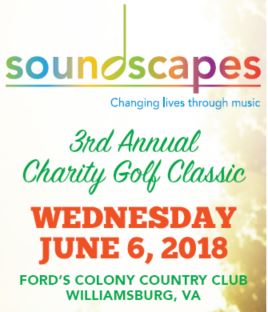 3rd Annual Soundscapes Charity Golf Classic to be held June 6
Newport News, VA – Soundscapes will host its 3rd annual fundraising golf tournament on Wednesday, June 6, 2018. Soundscapes is a nonprofit educational and intervention organization that instills transformative life skills in underserved children in our community by using intensive music study and frequent ensemble performances.
The event will be held at the Ford's Colony Country Club, located in Williamsburg, Virginia. It will include on-course contests, a Bloody Mary cash bar, box lunches, continuous beverages, and an awards ceremony. The tournament is an 18-hole Captain's Choice format. Registration begins at 11 a.m., and tee-off is at 1 p.m. Prizes will be awarded to 1st, 2nd, and 3rd place teams. Corporate and individual sponsorship opportunities are available. Donations are welcomed and appreciated. To register as an individual, a team, or to become a tournament sponsor visit http://soundscapes.org/golf-tournament-registration.
Organized by the Board of Directors of Soundscapes, the golf tournament is part of the annual campaign to raise funds to educate and inspire the 400 underserved children who participate in the Soundscapes program. The law firm of Patten, Wornom, Hatten & Diamonstein will be the Presenting Sponsor of the event, continuing their long tradition of partnering with Soundscapes on projects and programs that benefit the community and students.
"The Soundscapes Charity Golf Classic has become a fun and important annual event to support our young musicians," Executive Director, Anne Henry, said. "Thanks to the generosity of the many people who make it successful, we are able to make a significant difference in enriching the lives of our students."
Over time, Soundscapes students adopt positive social behaviors – good self-esteem, concentration, teamwork, improved time management – with better school attendance and a major drop in disciplinary actions. As they advance, they demonstrate civic leadership skills, improve test scores, and attain confidence from success in multiple endeavors.
For more information on the Charity Golf Classic, or to find out how you can make a difference in the lives of Soundscapes students, contact Allison Bretizius at 757-273-6178.
-End-
Office:  11009 Warwick Blvd., Suite 215, Newport News, Virginia  23601
Mail: 11712 Jefferson Avenue, Suite C, #473, Newport News, Virginia 23606
(757) 273-6178
www.soundscapes.org