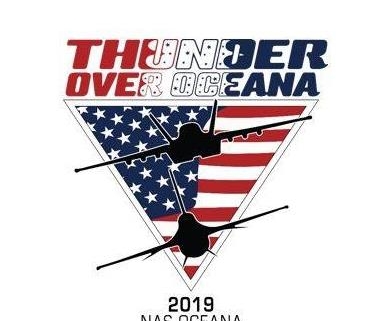 The NAS Oceana 2019 Air Show is proud to host
The U.S. Air Force Air Demonstration Squadron Thunderbirds
.
The men and women of Naval Air Station Oceana are busily planning 2019 NAS Oceana Air Show and are very excited to open their base up to the public on Saturday and Sunday, September 21st and 22nd, 2019. This year the NAS Oceana Air Show is excited to present for the first time in anyone's memory the United States Air Force Thunderbirds!  All hands are truly thrilled at this unique and sensational opportunity to showcase our fellow service members in the United States Air Force.  We'll also have a host of the best civilian and military performers to include Skytypers, Gene Soucy, Jim Klatt, Skip Stewart and Greg Shelton. We'll also have Tactical Demonstrations by the F/A-18F Super Hornet and our world-famous Air Power Demonstration as well as the USASOC Black Daggers Jump Team.  And finally, we're VERY pleased to announce the return of SHOCKWAVE, the jet-powered Peterbilt truck that spews smoke and thunder to amaze crowds all across the country.  See our Performer Page for all the details on these and a host of other performances.
Make sure you arrive early for the NAS Oceana Air Show this year!  Gates open at 8:00 am and ADMISSION AND PARKING ARE FREE.  The flight line will be packed with static displays, food & novelty vendors and plenty of other things for the whole family to enjoy the entire day.  On both Saturday and Sunday, the flying will start at approximately 10:00 a.m.  We'll updated our flying line up on the Schedule Page by early August so check back then to see how we managed to fit all this action in the day!