PARAMORE
December 8, 2017 @ 7:30 pm
-
$39.50 – $42.50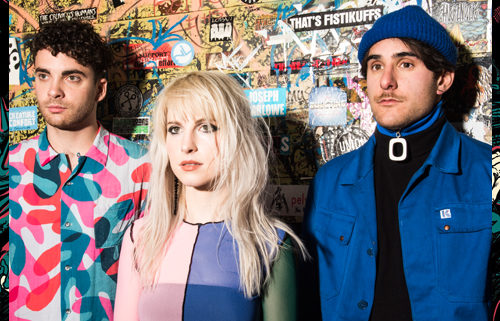 Paramore will perform live on December 8 at 7:30PM for the 96X Winter Meltdown at the Constant Center with special guest MisterWives.
Paramore has produced five singles on the Billboard Hot 100 including "Ain't It Fun", "The Only Exception" and "Decode". They recently released their fifth studio album, After Laughter. In 2017, their fifth studio album spent 11 weeks on the Billboard Top Albums peaking at #5.
Paramore is a band that formed in 2003 in a quiet town that is now known as Nashville,
TN. Still in junior high, music made up 100% of their extracurricular time. Until
eventually, they all left for tour in the middle of a school year and thank heaven music
would eventually work out for them. No one understood how a band so un-country could
be from this strange little town called Nashville, nor how a bunch of kids so small could
play their angst-filled songs so proudly.
Much time has passed since those innocent days.
Life has worn its grooves into the record that is Paramore's collective life. If you look
closely, you can see that the members of Paramore all have very sexy dark circles
under their eyes now… and surprisingly, haven't all quit music after years of sexism in
the media, soap opera-worthy drama, and nearly 15 years inside the brutal beast that is
the music industry.
Paramore still resides in their beloved home of Nashville, TN, which these days looks a
lot more like a construction site than a well-kept secret. They spend most their days and
nights sitting on the porch together laughing or crying… reminiscing, daydreaming, or
trying desperately to just stay present.