Reali-Tea: Tea, Conversation & Spiritual Enrichment
May 7, 2022 @ 2:00 pm
-
$25 – $50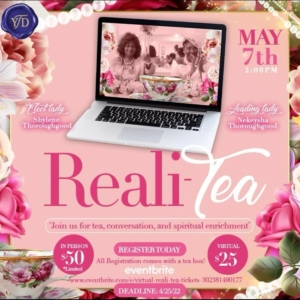 Join Elect Lady Shylene Thoroughgood along with Leading Lady Nekeysha Thoroughgood for tea, conversation, and spiritual enrichment.
This is a hybrid event with limited in-person seating. All registered participants (in-person and virtual) will receive a "Tea Box" with all the items necessary to enjoy a wonderful cup of tea along with other treats.
We will also be honoring four amazing mothers with a YD B. Thoroughgood Sr. Foundation M.O.T.H.E.R.S (Motivator, Outstanding, Teacher, Heroic, Encourager, Role Model, Selfless) Award. These resilient women all possess the characteristics of an amazing Mother and role model to not only their children, but to those within their communities as well.
**All proceeds from this event will go to the YD B. Thoroughgood Sr. Foundation to continue the mission of developing, nurturing, motivating, guiding and empowering our young men of color. **
Tickets can be purchased at:  https://www.eventbrite.com/e/virtual-reali-tea-tickets-302381490177
If you can't make the event but would still like to donate to the YD B. Thoroughgood Sr. Foundation, please select "Donation" under tickets and select an amount. Any amount is appreciated.