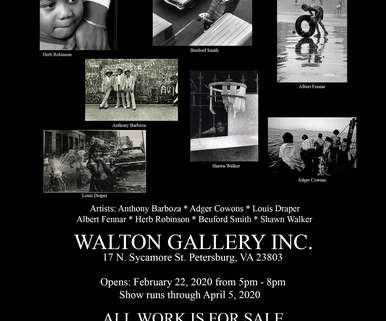 Walton Gallery in historic Petersburg, Virginia, presents The Kamoinge Workshop "Masters of the Lens"
The Kamoinge Workshop "Masters of the Lens" is a group show featuring world renowned photographers Anthony Barboza, Adger Cowans, Louis Draper, Albert Fennar, Herb Robinson, Beuford Smith and Shawn Walker. The show opens Saturday, February 22, 2020 from 5pm to 8pm and runs through April 5, 2020. All work in this show will be for sale.
The Kamoinge Workshop is a collective of black photographers founded in 1963 in Harlem, New York. They met weekly to discuss how to expand their photographic boundaries to raise black photography into a higher art form. Their goal was the document black life in a positive light and tear down the negative stereotypes the media displayed through the lens of a camera. Some of the Kamoinge Workshop members over the past few decades have become some of the premier photographers in the world! Their works are housed in many of the permanent collections of the top museums in the Country. Right now, they have the "Soul of a Nation" travel around the country in major museums and art instructions plus the upcoming traveling show "Working Together: Louis Draper and the Kamoinge Workshop" opening February 2020 at the VMFA.